Purchasing the R/T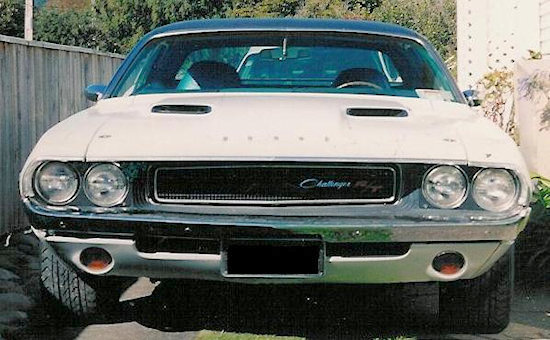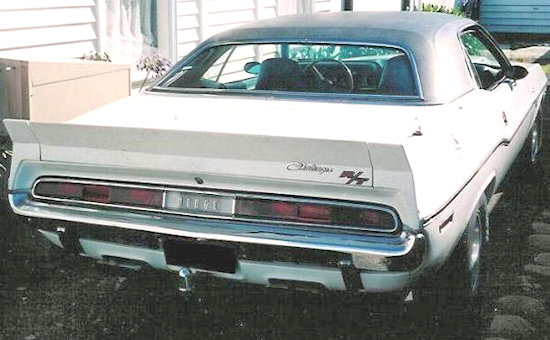 At the age of 12, while sick and home from school at my Grandmas, I was watching TV and channel surfing. I eventually came across a movie; a movie that basically changed my life. I had no idea what the movie was called. I was glued to the screen until the end. At the time I had no idea what the car was other than it had a V8 and was white. One thing was for certain, I loved what I saw. A few years down the track in my late teens, something jogged my memory about watching this movie as a kid. I started to research "white cars in movies" and finally discovered what this mysterious car was. The car in the movie (of course) was a white 1970 Dodge Challenger R/T, the movie; Vanishing Point.

I started searching for Challengers, in any condition. At the time, although I researched a little, I really had no idea what to look for, what #'s matching really meant and what was a good buy. I had been looking for around 4-6 months and decided to look through a free listing website that was basically back country in web terms. The site was www.sellit.co.nz a site I must thank for allowing me to find my dream car. Listed in their small variety of cars for sale section was a small advert with no photos, which read: "For sale: 70 Challenger R/T, white, #'s matching, 440 & auto, Paraparaumu, call.....". I couldn't believe my eyes!!
I immediately called the seller to ask if it was still for sale, which it was. After eating my hanky, I asked to view the car that day after work, which was in a few hours. The seller said he had just listed it a few days prior and had great interest. He said he had several potential buyers in Auckland (10 hour drive) but since I was closer he'd let me have first dibs. This car was 30 minutes drive from my house so it was truly a rare find so close to him. The car had been in New Zealand since the 30th of July 1971 so was one, if not the first Challengers in New Zealand, which was awesome.
The best sight for me was seeing my first Dodge Challenger (in white no less) in person. It was one of the best things ever. I met the owner and he took us down to his garage. He rolled up the old garage door and slowly but surely the Challenger emerged. I basically started to get cash out then and there! Looking around I really had no clue at the time at what I was looking for but going through the details with the owner I was sold. I asked the owner what his bottom dollar was? $24K was his reply (this was in 2003). My reply: "DONE!" A handshake, smiles and a date to pay, change the ownership details and pick the car up were made. I purchased Lucy on the 5th of May 2003 with 48,618miles (78,243km) on the odometer.
Collecting the car a few days later, driving it home for the first time was quite nerve racking. This was my first V8, first LHD vehicle and she wasn't in the greatest running order. Lots of quirks, rattles and she was running a little rough. The previous owner left the tank on E for empty or for "Enough", that mixed in with peak hour traffic on a Friday, trying to locate where everything was and a busy gas station forecourt, made for a pretty stressful night. Just to make things worse, it was raining and twilight time!?
Getting her home and into the garage was the best feeling ever. We made it. Welcome home. I finally had my Challenger and in the following pages you will see her transformation into her current state, a show quality vehicle made to drive and enjoy. I am truly thankful to own this car especially when considering she is 1 of 1,886 ever made with her 440bbl / TF727 R/T combo. Who knows how many of those cars haven't rotted away, crashed or in scrap yards. Check out the Restoration section to see her transformation.
Condition & Fender Tag Options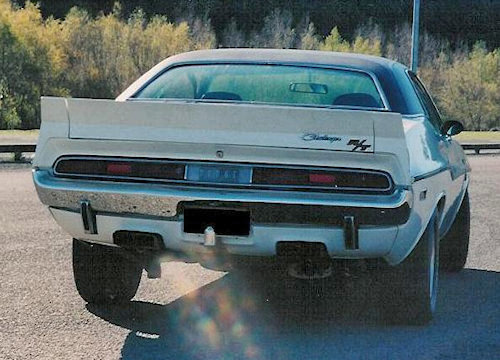 Exterior: The Challenger's exterior was in pretty good shape. It had a vinyl top which I knew was covering more than the eye could see. There were a few rust spots around the guards and she had a few small spots around the lower guards, nothing major. This was a normal amount of rust for a 35 year old car that had been sitting around. One thing I wasn't impressed with was the "mad max" rear wing. When I first laid eyes on it, I knew it had to go. It's not the prettiest wing ever made but it was solid and well built. Still, it wouldn't be there for much longer!

In terms of the engine bay, it was a complete eyesore but all the original parts were there. The previous owner informed us that the car was originally a B5 Blue car, which is correct. One of the prior owners painted the car Alpine White some time in the late 70's. This car has spent the majority of it's life in white and she will continue to wear this shade. I am not a big fan of B5 Blue, a nice colour but for me, it's just a little too "blah" for my own personal tastes. To each their own though.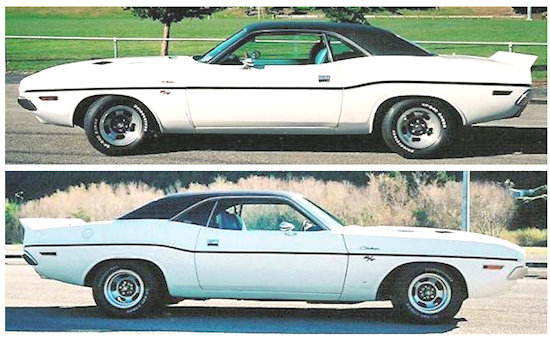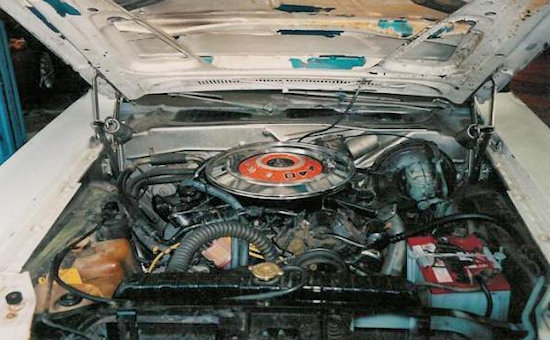 "Vanishing Point" helped with my decision to keep her white, I won't lie. It's a loving feeling hopping into the Challenger and getting the vibe of the whole car chase and the movie. It's far from an exact replica though and that's how I like it. It's missing a few items that I didn't want or need. For instance, the wrong mirrors (the movie car had 1 and a different style), the movie car had bumper guards (I don't like them), different interior seat pattern (cloth inserts) and a clunky old 4-Speed and now she has a Hemi in place of the "correct "440. Like most car guys, I made the car for me, not for enthusiasts, correctness gurus or Vanishing Point fans. I used personal touches and ideas to make the Challenger R/T my own. My own version of the Vanishing Point vehicle. The Carlwalski version.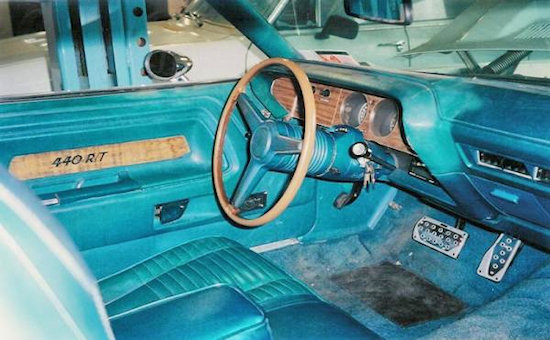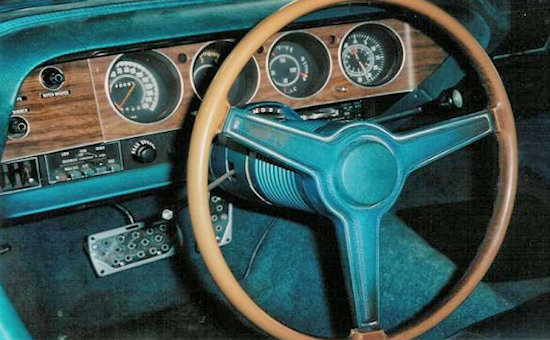 Interior: The condition of the interior when I purchased the car wasn't actually too bad. Seats were good, gauges worked (except clock), power windows worked albeit very slow and the air condition while weak, did function, somewhat. The vinyl doors were a tad faded with "home made" wooden "440 R/T" inserts that had aged and were brittle. The carpet was a little funky but overall, for it's age, the Challenger was really decent. The car had the distinctive "old car smell", that dated vinyl stench which while funky smelling, fit to the condition and vibe at the time and was all part of the personality. While that smell has been replaced with fresh new interior, I can still smell it from memory.
The Challenger was an original bucket seat car (C55) with a rare column shift option (no console, no C16 on the fender tag). The interior color was B5 Blue, Bright blue metallic. A previous owner removed the original bucket seats and these were replaced with a correct 1970 bench seat with fold down armrest (buddy seat), which made more sense to have a bench seat with a column shift equipped car. Sadly, I believe the Challenger's original build sheet (if it had one) went with the original bucket seats. Long gone.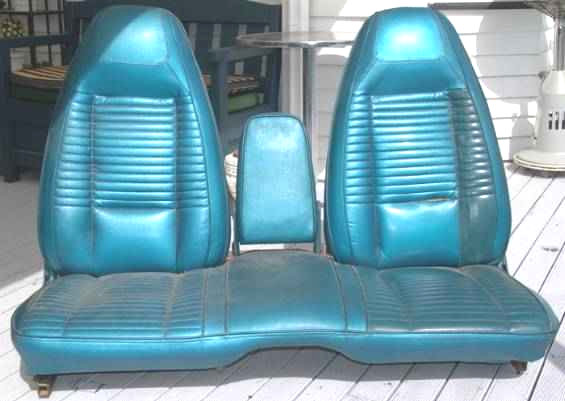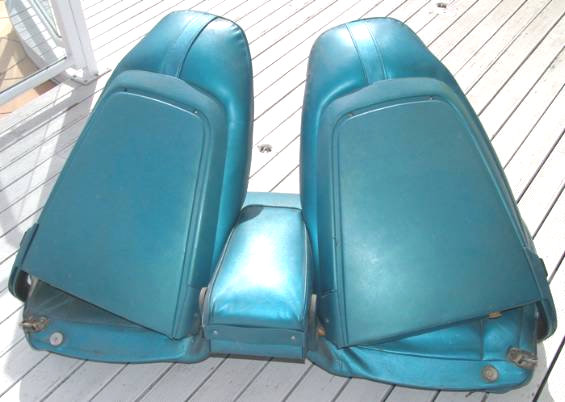 My 1970 Dodge Challenger R/T Fender Tag Options
V1X = Black Vinyl Roof

V5X = Black Body Side Mouldings
Y14 = Sold Car
N41 = Dual Exhaust
N42 = Bright Exhaust Tips
N85 = Tachometer
N95 = Evaporative Emission Control
P31 = Power Windows
R35 = 10 Watt AM/FM Radio
G31 = Right Hand Outside Mirror Chrome Racing Mirror
G33 = Left Hand Outside Remote Chrome Racing Mirror
H51 = Air Conditioning with Front Heater
J25 = 3-Speed Wiper
M21 = Drip Rail Mouldings
A01 = Light Package
A36 = Performance Axle Package (3.55/8.75 SureGrip, Max cooling, Hemi Suspension)
A62 = Rallye Instrument Cluster
B51 = Power brakes
E86 = 440 4bbl 375hp
D32 = Heavy Duty TorqueFlite-727 Transmission
EB5 = Bright Blue Metallic Paint
H6B5 = High price Class, B5 Blue Vinyl Bucket Seats
S79 = Standard Wood Grain Wheel
000 = Upper Door Frame
B13 = Scheduled build date November 13th/1969 (Thursday)
075659 = Vehicle Order Number
VIN: JS23U0E1#####
J = Challenger (Model)
S = Special Price Class (R/T)
23 = 2 Door Hardtop (Style)
U = 440 4bbl (375hp/480lb-ft) (Engine)
0 = 1970 (Model Year)
E = Los Angeles (Assembly Plant)
1##### = Sequence Number