Classic Car Magazine
During Lucy's restoration, I was contacted by the editor of the NZ Classic Car magazine to see if they could use Lucy in an issue. Obviously, my reply was yes! Once the car was completed, I contacted the editor to advise that she was ready when they were. Late January 2008, the shoot took place and by late April 2008, she hit the stands (issue 209, May, 2008) not only in the magazine but as the cover girl! I very cool and proud moment. The following article is from the NZ Classic Car website.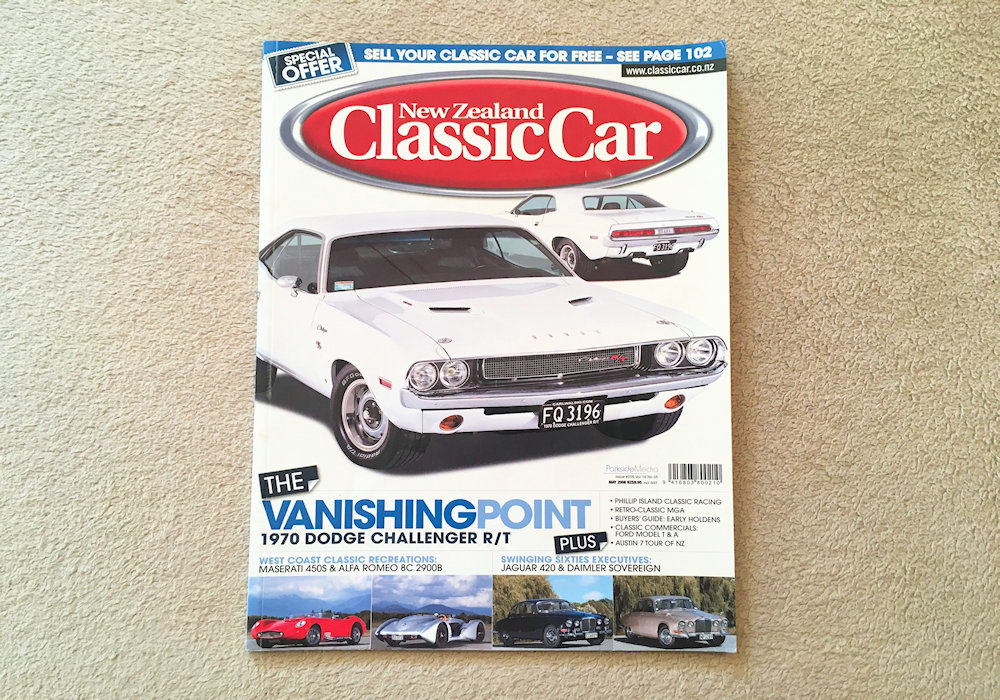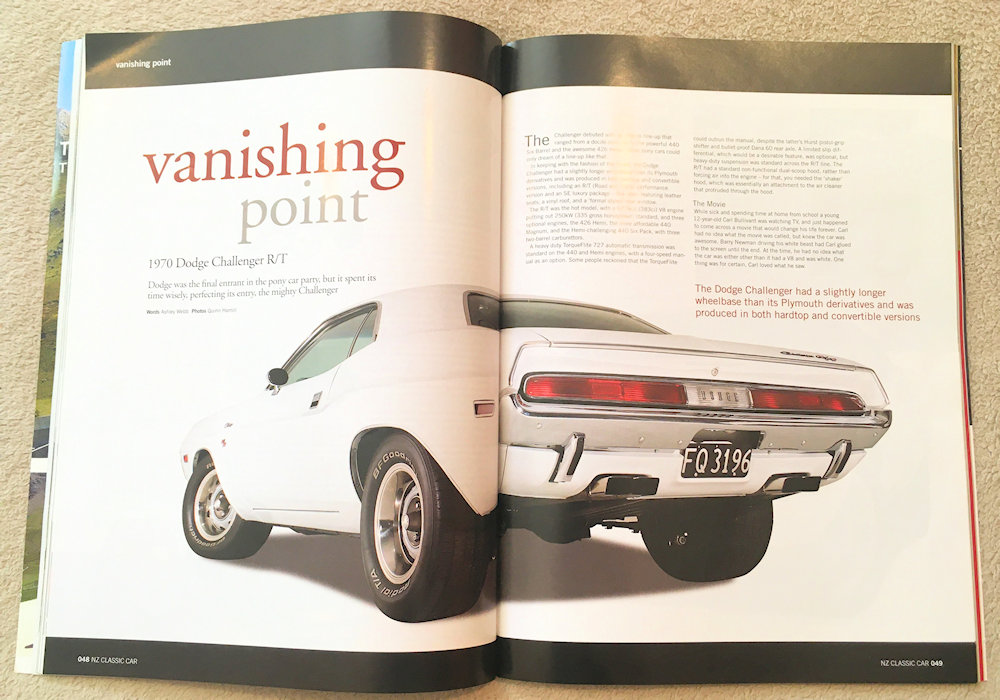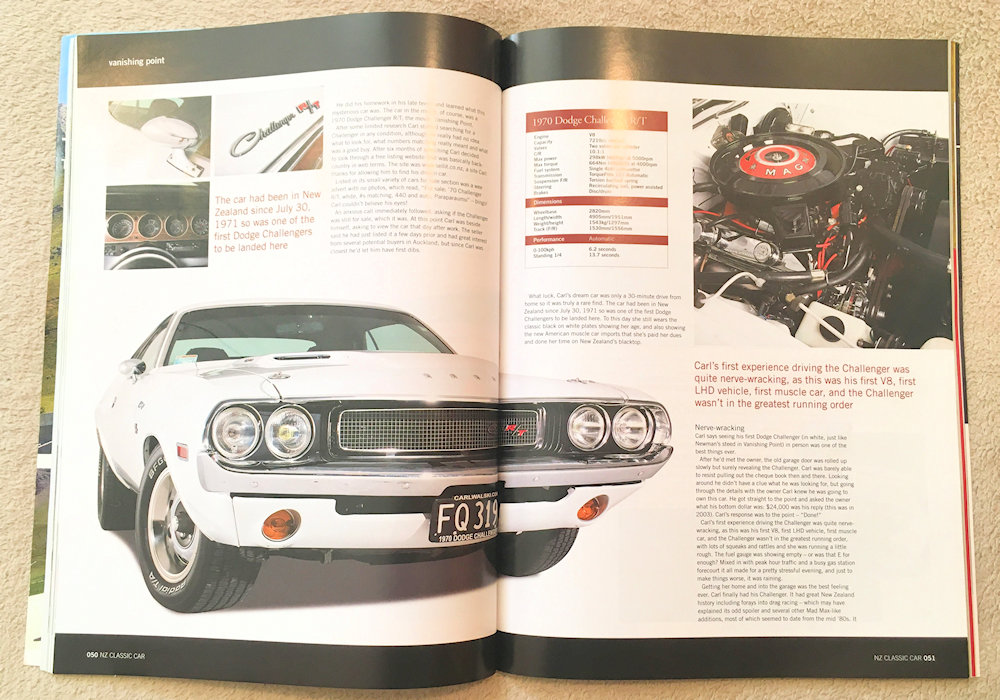 "The Challenger debuted with an engine line-up that ranged from a docile slant-six to the powerful 440 Six Barrel and the awesome 426 Hemi. Other pony cars could only dream of a line-up like that. In keeping with the fashion of the times, the Dodge Challenger had a slightly longer wheelbase than its Plymouth derivatives and was produced in both hardtop and convertible versions, including an R/T (Road and Track) performance version and an SE luxury package – the latter featuring leather seats, a vinyl roof, and a 'formal styled' rear window. The R/T was the hot model, with a 6276cc (383ci) V8 engine putting out 250kW (335 gross horsepower) standard, and three optional engines, the 426 Hemi, the more affordable 440 Magnum, and the Hemi-challenging 440 Six Pack, with three two-barrel carburettors.

A heavy duty TorqueFlite 727 automatic transmission was standard on the 440 and Hemi engines, with a four-speed manual as an option. Some people reckoned that the TorqueFlite could outrun the manual, despite the latter's Hurst pistol-grip shifter and bullet-proof Dana 60 rear axle. A limited slip differential, which would be a desirable feature, was optional, but heavy-duty suspension was standard across the R/T line. The R/T had a standard non-functional dual-scoop hood, rather than forcing air into the engine – for that, you needed the 'shaker' hood, which was essentially an attachment to the air cleaner that protruded through the hood.

The Movie - While sick and spending time at home from school a young 12-year-old Carl Bullivant was watching TV, and just happened to come across a movie that would change his life forever. Carl had no idea what the movie was called, but knew the car was awesome. Barry Newman driving his white beast had Carl glued to the screen until the end. At the time, he had no idea what the car was either other than it had a V8 and was white. One thing was for certain, Carl loved what he saw. He did his homework in his late teens and learned what this mysterious car was. The car in the movie, of course, was a 1970 Dodge Challenger R/T; the movie, Vanishing Point.

After some limited research Carl started searching for a Challenger in any condition, although he really had no idea what to look for, what numbers matching really meant and what was a good buy. After six months of searching Carl decided to look through a free listing website that was basically back-country in web terms. The site was www.sellit.co.nz, a site Carl thanks for allowing him to find his dream car. Listed in its small variety of cars for sale section was a wee advert with no photos, which read, "For sale: '70 Challenger R/T, white, #s matching, 440 and auto, Paraparaumu" – bingo! Carl couldn't believe his eyes!

An anxious call immediately followed, asking if the Challenger was still for sale, which it was. At this point Carl was beside himself, asking to view the car that day after work. The seller said he had just listed it a few days prior and had great interest from several potential buyers in Auckland, but since Carl was closest he'd let him have first dibs. What luck, Carl's dream car was only a 30-minute drive from home so it was truly a rare find. The car had been in New Zealand since July 30, 1971 so was one of the first Dodge Challengers to be landed here. To this day she still wears the classic black on white plates showing her age, and also showing the new American muscle car imports that she's paid her dues and done her time on New Zealand's blacktop. Carl says seeing his first Dodge Challenger (in white, just like Newman's steed in Vanishing Point) in person was one of the best things ever.

After he'd met the owner, the old garage door was rolled up slowly but surely revealing the Challenger. Carl was barely able to resist pulling out the cheque book then and there. Looking around he didn't have a clue what he was looking for, but going through the details with the owner Carl knew he was going to own this car. He got straight to the point and asked the owner what his bottom dollar was: $24,000 was his reply (this was in 2003). Carl's response was to the point – "Done!"

Carl's first experience driving the Challenger was quite nerve-wracking, as this was his first V8, first LHD vehicle, first muscle car, and the Challenger wasn't in the greatest running order, with lots of squeaks and rattles and she was running a little rough. The fuel gauge was showing empty – or was that E for enough? Mixed in with peak hour traffic and a busy gas station forecourt it all made for a pretty stressful evening, and just to make things worse, it was raining. Getting her home and into the garage was the best feeling ever. Carl finally had his Challenger. It had great New Zealand history including forays into drag racing – which may have explained its odd spoiler and several other Mad Max-like additions, most of which seemed to date from the mid '80s. It was exactly what Carl had dreamed of owning, a 1970 Dodge Challenger R/T, 7210cc (440ci) Magnum, automatic and with all numbers matching to boot."

Continued below...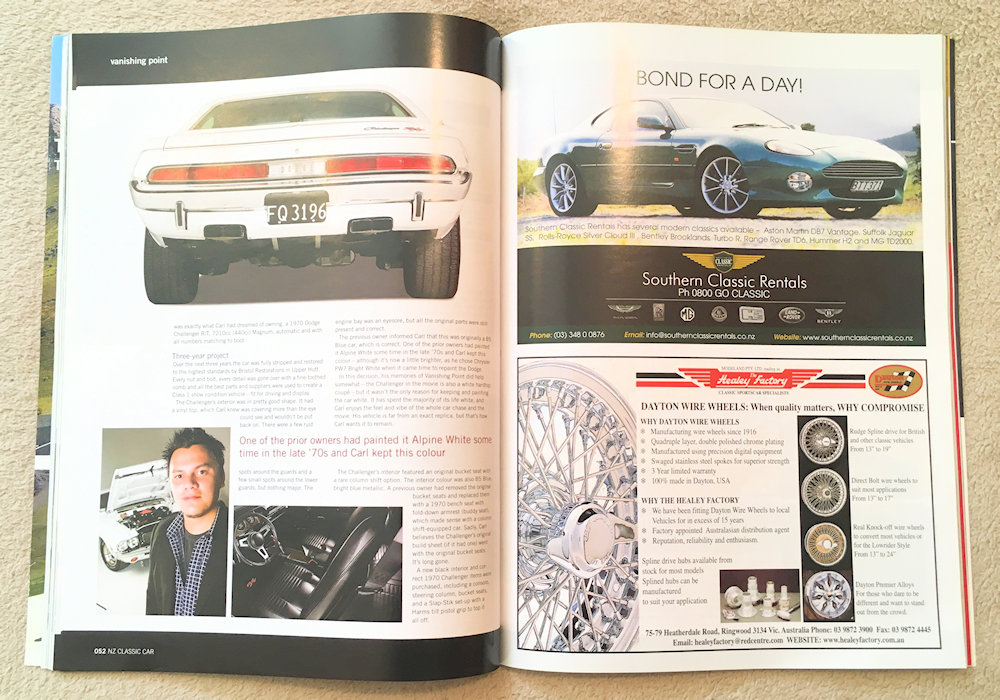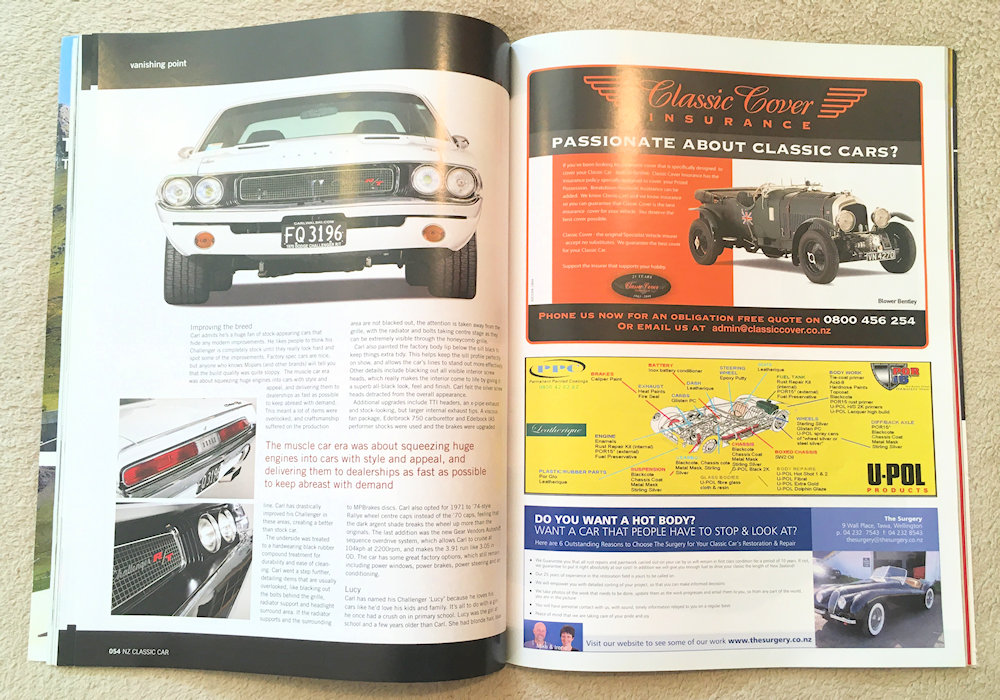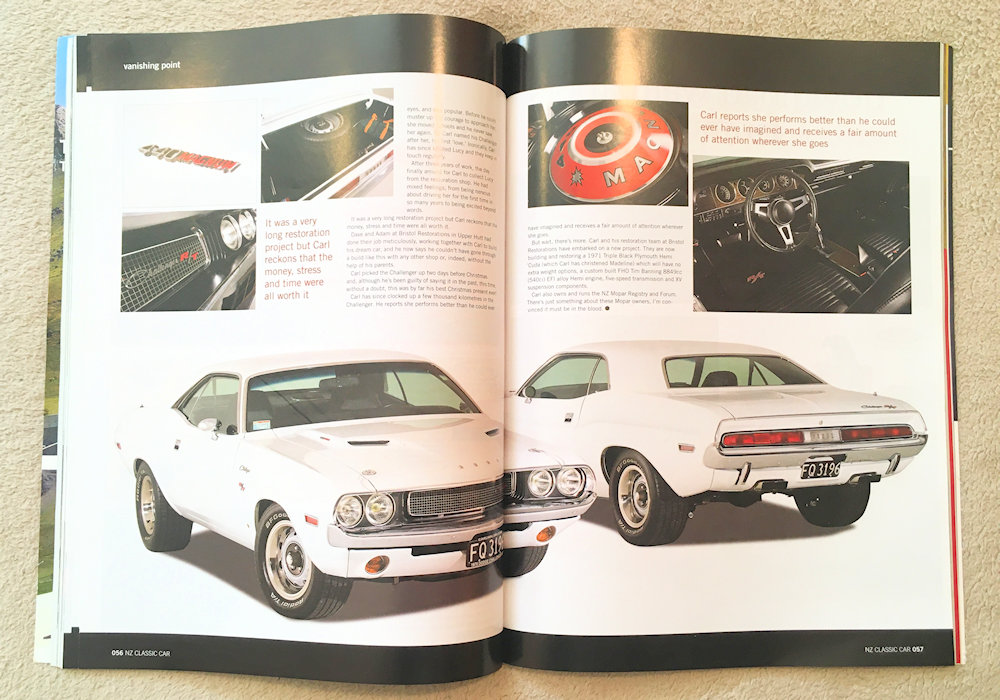 "Three year project - Over the next three years the car was fully stripped and restored to the highest standards by Bristol Restorations in Upper Hutt. Every nut and bolt, every detail was gone over with a fine-toothed comb and all the best parts and suppliers were used to create a Class 1 show condition vehicle – fit for driving and display. The Challenger's exterior was in pretty good shape. It had a vinyl top, which Carl knew was covering more than the eye could see and wouldn't be put back on. There were a few rust spots around the guards and a few small spots around the lower guards, but nothing major. The engine bay was an eyesore, but all the original parts were still present and correct.
The previous owner informed Carl that this was originally a B5 Blue car, which is correct. One of the prior owners had painted it Alpine White some time in the late '70s and Carl kept this colour – although it's now a little brighter, as he chose Chrysler PW7 Bright White when it came time to repaint the Dodge. In this decision, his memories of Vanishing Point did help somewhat – the Challenger in the movie is also a white hardtop coupé – but it wasn't the only reason for keeping and painting the car white. It has spent the majority of its life white, and Carl enjoys the feel and vibe of the whole car chase and the movie. His vehicle is far from an exact replica, but that's how Carl wants it to remain.
The Challenger's interior featured an original bucket seat with a rare column shift option. The interior colour was also B5 Blue, bright blue metallic. A previous owner had removed the original bucket seats and replaced them with a 1970 bench seat with fold-down armrest (buddy seat), which made sense with a column shift-equipped car. Sadly, Carl believes the Challenger's original build sheet (if it had one) went with the original bucket seats. It's long gone. A new black interior and correct 1970 Challenger items were purchased, including a console, steering column, bucket seats, and a Slap-Stik set-up with a Harms tilt pistol grip to top it all off.
Improving the breed - Carl admits he's a huge fan of stock-appearing cars that hide any modern improvements. He likes people to think his Challenger is completely stock until they really look hard and spot some of the improvements. Factory spec cars are nice, but anyone who knows Mopars (and other brands) will tell you that the build quality was quite sloppy. The muscle car era was about squeezing huge engines into cars with style and appeal, and delivering them to dealerships as fast as possible to keep abreast with demand. This meant a lot of items were overlooked, and craftsmanship suffered on the production line. Carl has drastically improved his Challenger in these areas, creating a better than stock car.
The underside was treated to a hardwearing black rubber compound treatment for durability and ease of cleaning. Carl went a step further, detailing items that are usually overlooked, like blacking out the bolts behind the grille, radiator support and headlight surround area. If the radiator supports and the surrounding area are not blacked out, the attention is taken away from the grille, with the radiator and bolts taking centre stage as they can be extremely visible through the honeycomb grille. Carl also painted the factory body lip below the sill black to keep things extra tidy. This helps keep the sill profile perfectly on show, and allows the car's lines to stand out more effectively. Other details include blacking out all visible interior screw heads, which really makes the interior come to life by giving it a superb all-black look, feel and finish. Carl felt the silver screw heads detracted from the overall appearance.
Additional upgrades include TTI headers, an x-pipe exhaust and stock-looking, but larger internal exhaust tips. A viscous fan package, Edelbrock 750 carburettor and Edelbock IAS performer shocks were used and the brakes were upgraded to MPBrakes discs. Carl also opted for 1971 to '74-style Rallye wheel centre caps instead of the '70 caps, feeling that the dark argent shade breaks the wheel up more than the originals. The last addition was the new Gear Vendors Autoshift sequence overdrive system, which allows Carl to cruise at 104kph at 2200rpm, and makes the 3.91 run like 3.05 in OD. The car has some great factory options, which still remain, including power windows, power brakes, power steering and air conditioning.
Lucy - Carl has named his Challenger 'Lucy' because he loves his cars like he'd love his kids and family. It's all to do with a girl he once had a crush on in primary school. Lucy was the girl at school and a few years older than Carl. She had blonde hair, blue eyes, and was popular. Before he could muster up the courage to approach her, she moved schools and he never saw her again. So Carl named his Challenger after her, his first 'love.' Ironically, Carl has since located Lucy and they keep in touch regularly. After three years of work, the day finally arrived for Carl to collect Lucy from the restoration shop. He had mixed feelings, from being nervous about driving her for the first time in so many years to being excited beyond words. It was a very long restoration project but Carl reckons that the money, stress and time were all worth it.
But wait, there's more. Carl and his restoration team have embarked on a new project. They are now building and restoring a 1971 Triple Black Plymouth Hemi 'Cuda (which Carl has christened Madeline) which will have no extra weight options, a custom built FHO Tim Banning 8849cc (540ci) EFI alloy Hemi engine, five-speed transmission and XV suspension components.Carl also owns and runs the NZ Mopar Registry and Forum. There's just something about these Mopar owners, I'm convinced it must be in the blood."
Carl's 1970 Dodge Challenger R/T Specs:

Engine: V8
Capacity: 7210cc (440ci)
Valves: Two valves per cylinder
C/R: 10.1:1
Max power: 298kW (400hp) at 5000rpm
Max torque: 664Nm (490lb/ft) at 4000rpm
Fuel system: Single 4bbl carburettor
Transmission: TorqueFlite 727 Automatic
Suspension F/R: Torsion bar/leaf spring
Steering: Recirculating ball, power assisted
Brakes: Disc/drum

Dimensions:

Wheelbase: 2820mm
Length/width: 4905mm/1951mm
Weight/height: 1543kg/1297mm
Track (F/R): 1530mm/1556mm

Performance:

0-100kph: 6.2 seconds
Standing 1/4: 13.7 seconds