NZV8 Magazine
After recieving the cover spot on the NZ Classic Car magazine, Lucy became a double cover car when she graced the front of the NZV8 magazine (Issue 210, November 2022). The first and only car to have been on both magazine covers, quite an achievement! A solid 8 page spread and some kick ass photos (Thanks Liam and Todd at NZV8!). Super proud. The following article is from the NZV8 magazine...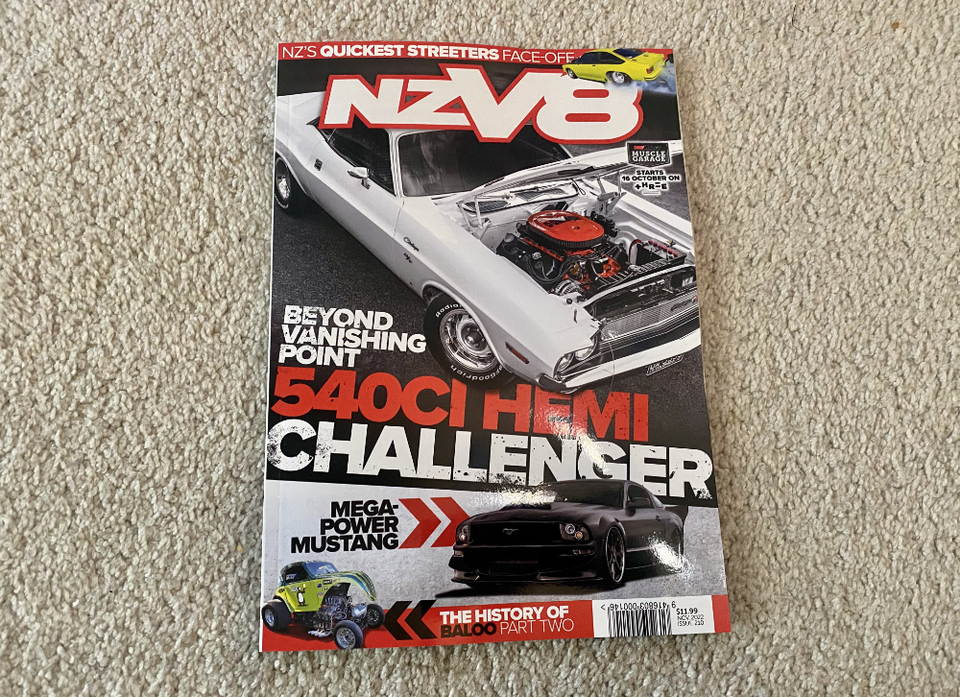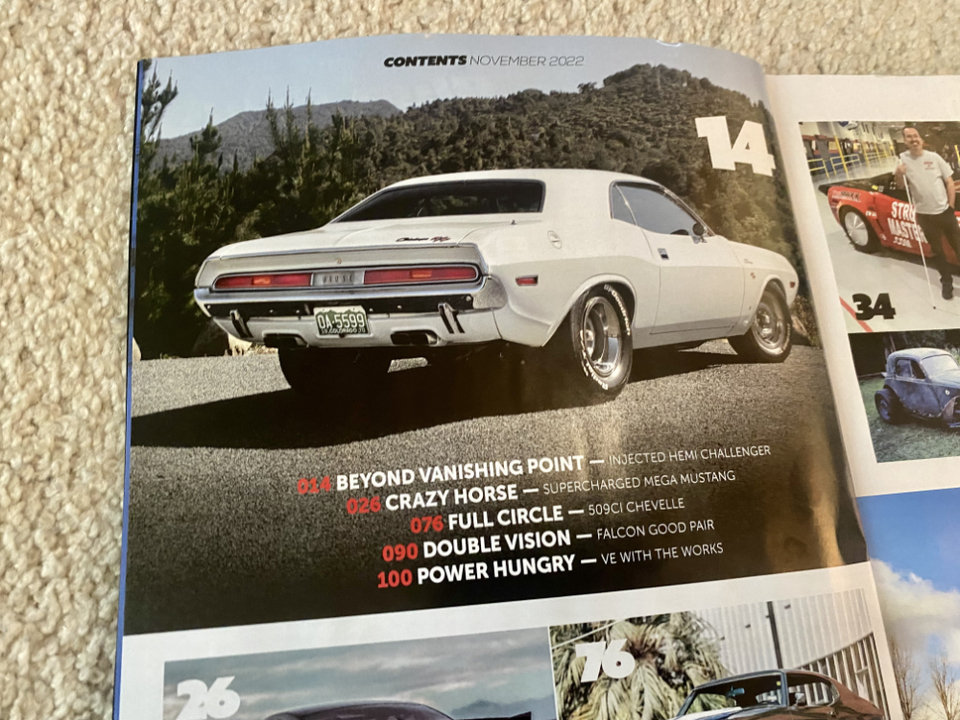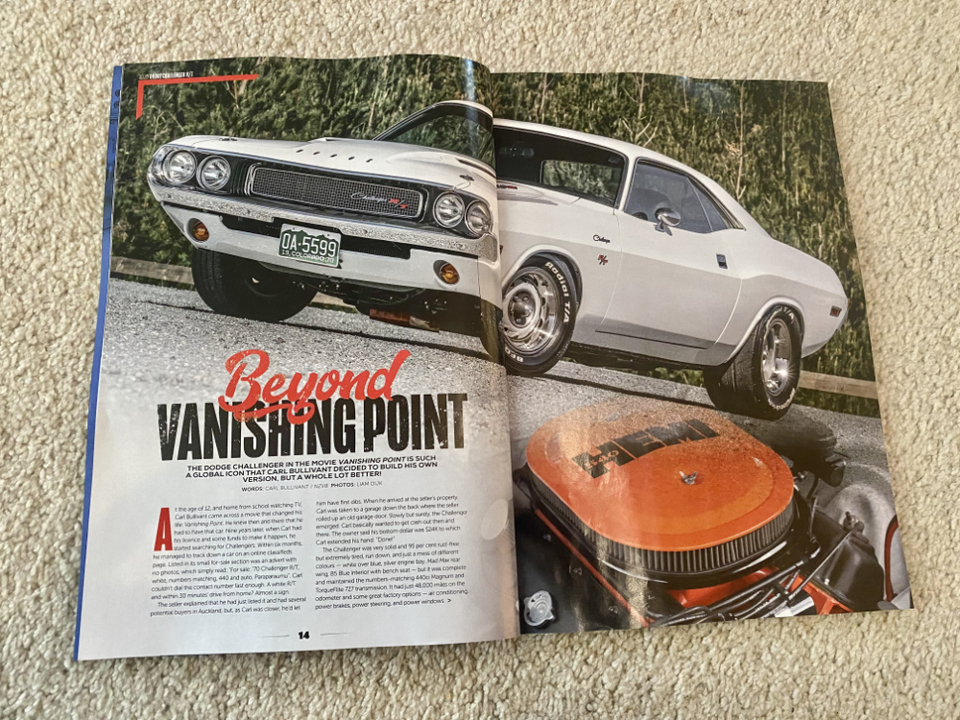 "Beyond Vanishing Point"
"
The Dodge Challenger in the movie Vanishing Point is such a global icon that Carl Bullivant decided to build his own version, but a whole lot better!
"
" At the age of 12, and home from school watching TV, Carl Bullivant came across a movie that changed his life: "Vanishing Point". He knew then and there, he had to have that car. Fast forward nine years when Carl had his license and some funds to make it happen, he started searching for Challengers. Within six months, Carl managed to track down a car on a random classifieds page online. Listed in their small for sale section was an advert with no photos, which simply read: "For sale: '70 Challenger R/T, white, numbers matching, 440 and auto, Paraparaumu, call.....". Carl couldn't dial fast enough. A white R/T and within 30 minutes drive from home? Almost a sign.
The seller explained he had just listed it a few days prior and had great interest. He said he had several potential buyers in Auckland but since Carl was closer, he'd let him have first dibs. Upon arriving at the seller's property, he was immediately taken to a garage down the back where the seller rolled up an old garage door. Slowly but surely the Challenger emerged. Carl basically wanted to get cash out then and there! The owner said his bottom dollar was $24,000 to which Carl extended his hand, "Done!".
The Challenger was very solid and 95 percent rust-free but extremely tired, run down and just a mess of different colours. White over blue, silver engine bay, Mad Max rear wing, B5 Blue interior with bench seat but it was complete and maintained the numbers matching 440ci Magnum and Torqueflite-727 transmission. It had just 48,000 miles on the odometer and some great factory options like AC, power brakes, power steering and power windows.
Interestingly, the Challenger had been in New Zealand since the 7th of July 1971 so was one of, if not the first Challengers in the country. In fact, it's even listed as NZ New, so she's paid her dues and done her time on the local tarmac and is a well-known vehicle in Mopar circles.
Taking the Challenger home for the first time was an exciting experience for Carl being just 21 at the time. It was his first V8, first left-hand drive first taste of American muscle. It was a wet and windy Wellington day, peak hour traffic at dusk and the light on the petrol gauge was on. Not the greatest of starts but Carl and his R/T made it home safely. Over the next few weeks, Carl enjoyed driving the car and getting used to the 440ci and all the car's quirks.
The list he started to record of things to fix kept growing; brakes, steering, carb tune, etc, before long, as we can all relate to, that list quickly turned into a small book. Carl tackled what he could but it became overwhelming and if he can't do the work to his very high standards himself, he won't do it at all. He decided to take the car into a local restoration shop to talk about the work required. A plan was made and work began.
A few weeks in to the work, it became pretty clear that this car deserved to be done right. The initial work required would have made it a nice driver, rough, but solid and the cheaper option. Carl knew what had to be done, so told the restoration shop to stop with the "band aid" fixes and to strip the car right back to bare metal, remove every nut and bolt and do it justice with a full restoration.
The work took around 3½ years to complete with Carl enjoying every minute of the restoration, slowly seeing his dream car come to fruition. During the rebuild, the car's 440ci Magnum big block was fully rebuilt to factory spec besides a very mild cam upgrade. The Torqueflite was restored with a Trans-Go shift kit and the body received its Chrysler PW7 white paint job. The original Vanishing Point colour was Alpine white which is more creamy in colour, but Carl preferred the crisper look of the PW7.
The B5 blue bench seat interior was replaced with all new factory-correct black vinyl, including high back bucket seats. The column shifter was removed and the car converted to floor shift using the correct centre console, shifter linkage and "Slap-Stik" shifter. While the idea was to have it looking stock, a few tricks were hidden along the way including a Gear Vendors overdrive, decent stereo, sound deadening and black rubber underseal to protect the underside.
Finally, the day had come to experience the rebuilt work of art. The very next day after collecting her, in true Vanishing Point style, Carl took the Dodge from Upper Hutt up to Whakatane for a new year's trip for its maiden voyage, talk about confidence in the build, but the car performed perfectly.
Fast forward seven years, the Challenger was still immaculate and had just 5,500 miles on it, of which Carl attributes to being young and free and driving and enjoying all his toys equally. At the time, Carl was building a 1971 Plymouth 'Cuda he had purchased out of the USA. A custom 540ci Hemi was ordered for the 'Cuda from Tim Banning at For Hemis Only.
Unfortunately, despite having someone view the car on his behalf in the USA, after stripping it down and an acid dip, it came back like Swiss cheese as the subject of some woeful restoration techniques. For example, flattened out soda cans in places instead of steel, welds that looked third world and just a nasty body work money pit. Every panel had holes, trunk, fenders, floor, frame, the entire car needed work. Carl was left with two choices; spend an enormous amount of money on body work or, quit while he was ahead. He chose the latter.
The 'Cuda was sold and Carl was now left with a 540ci Hemi sitting in his garage. Clearly a Mopar fan, part of Carl's stable at the time was his 2006 Dodge Ram SRT/10 aka "The Batram" (as seen in NZV8 Issue No. 62). The Viper-powered V10 was pushing out a fun 500hp and a truckload of torque. Carl loved the Batram's power and felt his stock-rebuilt Challenger was lacking that grunt.

Then one day, whilst tinkering in the garage, it hit him.... there was the Hemi, there was Challenger. The juices started flowing and it was almost like the Dodge had spoken to Carl saying: "What else do you want me to do to get you to click?! Put the Hemi in!".
Carl began the research and brainstorming to see what was required, what and how he would attack it and what kind of costs were involved. It wasn't too bad. With the 'Cuda and Challenger being based on the same E-body platform, he already had a bunch of parts at his disposal. The Hemi was complete and ready from sump to air cleaner, he had the TTI headers, a new custom-built Dana 60 diff, XV stiffening kit, XV 3-Link suspension, etc, so all the major and most expensive components were there.
The catch was that the Challenger was a 100 percent numbers matching, show condition vehicle so he did need to question if it was the right thing to do. Luckily for him (and you as readers), like most hot rodders, Carl always builds the cars for himself and not for anyone else's approval. Having had the car in stock form for over seven years, it was time to give her the power she'd been missing. The 440's 375hp big block and busy looking engine wasn't giving Carl the rush he desired.
Sure, it had been fun, but now being well experienced at driving high horsepower cars, he needed more. With this, the 440 was removed and stored away for safe keeping, knowing he'd rather hold on to it as a display piece than part with it. Of course, the car can always be returned to stock if wanted, but let's be real, that's not going to happen! Going from a 940nm Hemi to the stock 440ci would be like going from driving to walking.
Carl explained, to be fair to any 440 owners, he knows they can produce decent power, and he did contemplate building the 440 to make more, but it would still be nose heavy, and besides, he had the better engine sitting there.
The Hemi conversion began, thanks in part to Willy Dodson at WD Motors who helped to get the Hemi sitting in place. With that sorted, the Challenger moved on to have the 3-link suspension, front inner fender support bars and subframe connectors installed and all the holes in the engine bay welded closed. After the smoothed engine bay was resprayed, things hit a snag… or, for vanishing point fans, it nearly hit some bulldozers, so to speak."
Continued below...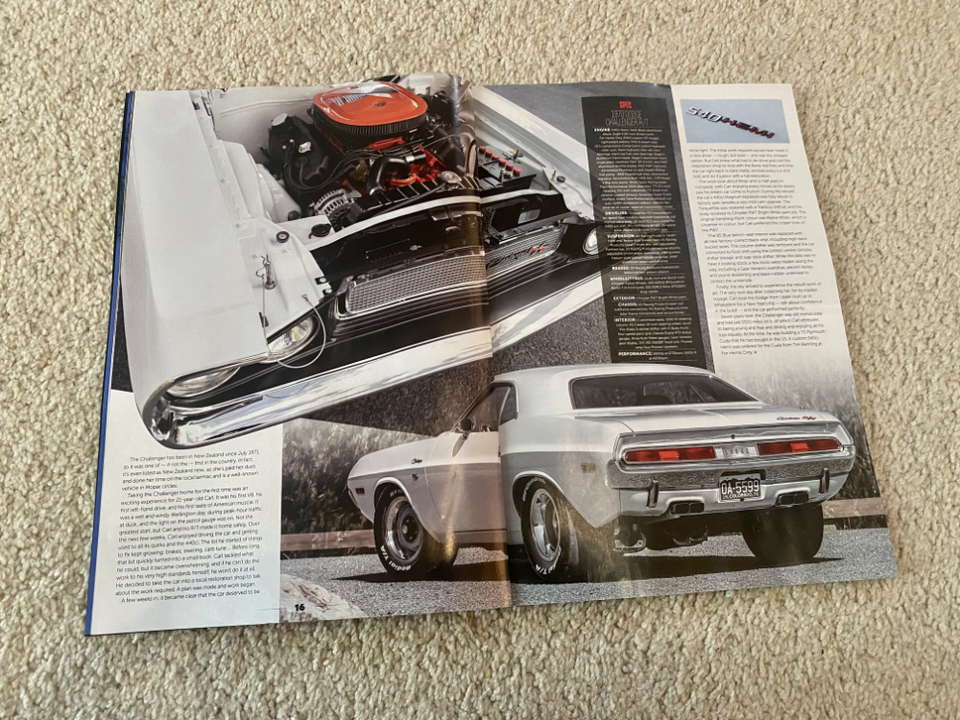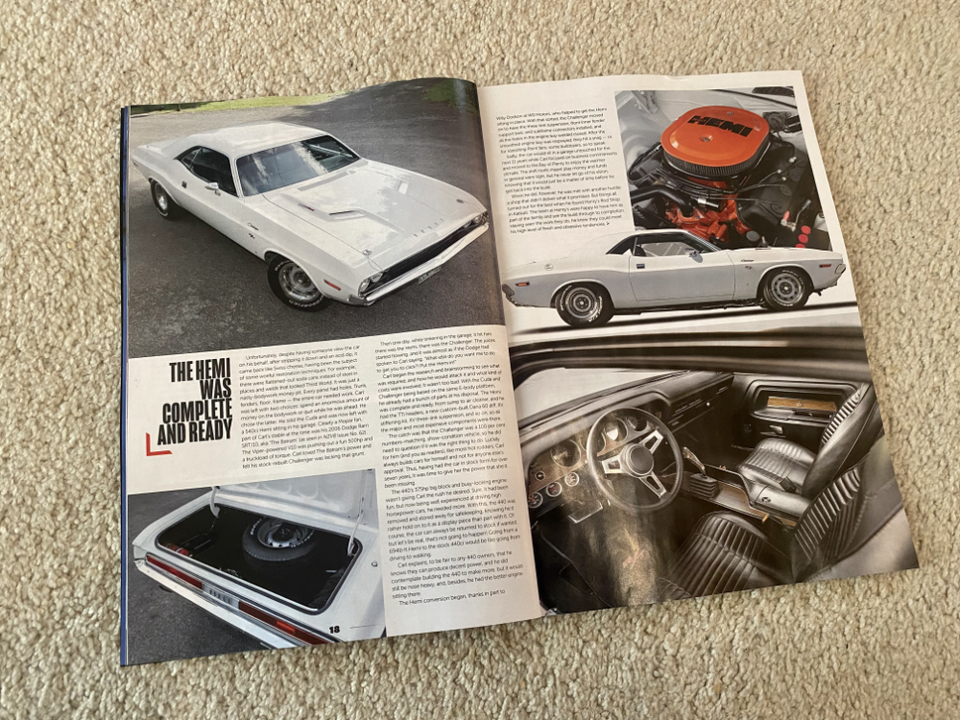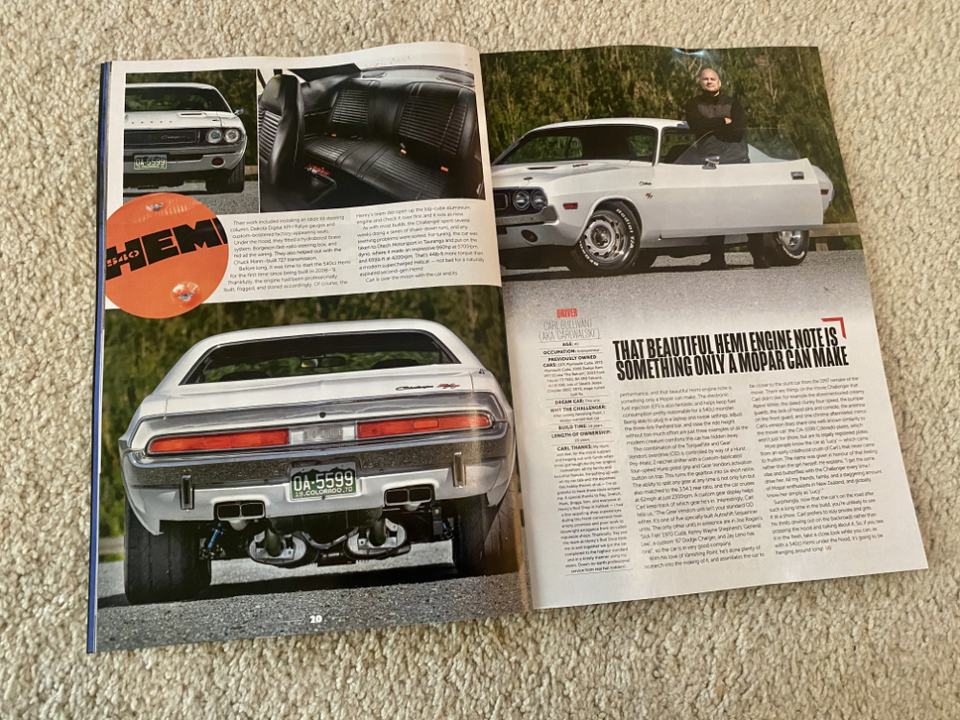 "Sadly the car would sit in a garage untouched for the next 11 years while Carl focused on business commitments and moved to the Bay of Plenty to enjoy the better climate. The shift north meant 'play money' and funds in general, were tight, but he never let go of the vision, knowing it was just a matter of time before he got back into the build. When he did, he was met with another hurdle, a shop that didn't deliver what they promised, but it all turned out for the best when he found Henry's Rodshop in Katikati. The team at Henry's were happy to have him as part of the family, and see the build through to completion. Having seen the work they do, he knew they could meet his high-level of finish and OCD tendencies.
Their work included installing an Ididit tilt steering column, Dakota Digital KPH Rallye gauges and custom bolstered factory appearing seats. Under the hood they fitted a Hydroboost brake system, Borgeson fast ratio steering box and hid all the wiring. They also helped out with the Chuck Mann-built 727 transmission and before long, it was time to start the 540ci Hemi for the first time since being built back in 2008-9.
Thankfully, the engine was professionally built, fogged and stored accordingly. Of course, the Henry's team did open up the big cube aluminium engine and check it over first, and it was as-new. Like any build, the Challenger spent the next several weeks doing a series of shake down runs and any teething issues being sorted. For tuning, the car was taken to D-Tech Motorsports in Tauranga and put on the dyno where it made an impressive 660hp at 5700rpm, 691ft-lb at 4200rpm. That's 60nm more torque than a modern supercharged Hellcat… not bad for a naturally aspirated second Gen Hemi!
As you can imagine, Carl is absolutely over the moon with the car, it's performance and that beautiful Hemi engine note is something that only a Mopar can make. The EFI is also fantastic and helps keep fuel consumption pretty reasonable for a 540ci monster. Being able to plug in a laptop and tweak settings or adjust the 3-link panhard bar, raise the ride height etc, without too much effort are just an example of all the modern creature comforts this car has hidden away.
The combination of the Torqueflite and Gear Vendors overdrive is controlled by way of a Hurst Promatic 2 ratchet shifter with a custom fabricated 4-Speed Hurst shifter and Gear Vendors activation button on top. This turns the gearbox into 6 short ratios. The ability to split any gear at any time is not only fun, but matched to the 3.54:1 rear ratio means the car cruises at 100kph at just 2300rpm.
A custom gear display helps Carl keep track of which gear he's in. Interestingly, Carl tells us "The Gear Vendors unit isn't your standard OD either. It's a one of five specially built "Autoshift Sequencer" units. The only other units in existence are in Joe Rogan's Sic Fish 1970 'Cuda, Kenny Wayne Shepard's General Lee, a custom 1967 Dodge Charger and Jay Leno has one", so the car is in very good company.
With his love of the Vanishing Point movie, he's done plenty of research into the making of it, and assimilates the car to be closer to the stunt car from the 1997 remake of the movie. There are things on the movie Challengers Carl didn't like, for example; the dull creamy Alpine White, dated clunky 4-speed, the bumper guards, no hood pins, no console, the antenna on the front guard and one 1 chrome aftermarket mirror, etc. Carl's version does share one well known similarity, the infamous OA5599 Colorado plates which aren't just for show and are NZ Legal plates.
Most people that know the car from before it was put into storage, know it simply as Lucy, a name based on an early childhood crush of Carl's that never came to fruition. The name was given in honour of that feeling rather than the girl herself. He explains "I get the same vibe and butterflies with the Challenger everytime I drive her, all my friends, family and a staggering amount of Mopar enthusiasts in New Zealand and globally, know her simply as, Lucy.
Surprisingly, now on the road after such a long time in the build, you're unlikely to see it at a show. Carl prefers to stay private and gets his thrills driving out on the backroads, rather than popping the hood and talking about it. So, if you see it in the flesh, take a close look while you can, as with a 540ci Hemi under the hood, he's not going to be hanging around long! "
Vehicle: 1970 Dodge Challenger R/T
Engine: 540ci Hemi, Keith Black aluminium block, Eagle 4.25-inch stroke crank, FHO Custom CP forged lightweight pistons, FHO H-beam rods, 10:1 compression Comp-Cams custom hydraulic roller cam, Hemi Hydraulic Lifter Set. Racing bearings, Hemi Top Fuel main bearings, Stage-V aluminium Hemi heads, Stage-V aluminium Hemi single plane manifold, F.A.S.T XFI 2.0 efi, 2 x F.A.S.T aluminium throttle bodies, FHO F.A.S.T injectors, Aeromotive Phantom in-tank Stealth 850hp fuel pump, -8AN Fragola fuel lines, Aeromotive regulator, Aeromotive filter,
MSD 6AL, CVR Mopar 1.9HP mini starter, 8mm Taylor Racing leads, Titan Performance 220 amp alternator, TTI 2⅛-inch headers, 3½-collectors, TTI 3-inch ceramic coated exhaust, Dynomax Super-Turbo mufflers, Quick Time Performance exhaust cutouts, Griffin aluminium radiator, electric fan, external oil cooler, external transmission cooler
Driveline: Torqueflite-727 transmission, 6-speed Gear Vendors Autoshift Sequencer, full manual valve body, 10-inch TCS race converter, 2400 rpm stall, 9¾-inch Dana 60 diff, 35-Spline axles, Power-Lock head, 3.54:1 ratio
Suspension: XV Motorsport Level 1 front end, heavy-duty torsion bars, XV Motorsports Level II 3-Link rear, adjustable panhard bar, XV Motorsport coilover shocks, adjustable pinion angle, aluminum trailing arms, NASCAR style splined tubular sway bar, billet aluminum lower control arms
Brakes: XV Motorsports Hydroboost, Wilwood 4-piston calipers
Wheels/Tyres: 15x8-inch and 15x10-inch Chrysler Rallye Wheels, 245/60R15 BFGoodrich Radial T/A front tyres, 325/50R15 Nitto NT555RII drag radials
Exterior: Chrysler PW7 Bright White paint
Chassis: XV Motorsports laser cut subframe connectors, XV Motorsports inner tube frame connectors and torque boxes
Interior: Customised seats, Ididit tilt steering column, PG Classic 14-inch steering wheel, Hurst Promatic 2 ratchet shifter with E-Body Hurst 4-Speed Pistol grip, Dakota Digital RTX Rallye Gauges, 3x Autometer gauges, Gear Vendors gear display, JVC KD-X560BT head unit, Pioneer amp, 4x Pioneer speakers
Performance: 660hp at 5700rpm, 691ft-lb at 4200rpm
Driver: Carl Bullivant a.k.a Carlwalski
Age: 40
Occupation: Entrepreneur
Previously owned cars: 1971 Plymouth 'Cuda, 1973 Plymouth 'Cuda, 2006 Dodge Ram SRT/10 aka "The Batram", 2003 Ford Falcon T3 TS50, BA XR8 Falcons, AUIII XR8, lots of Stealth Jeeps, Chrysler 300C SRT8, stage tuned Golf Rs
Dream car: This
Why the Challenger: After seeing Vanishing Point, I always wanted "that car"
Build time: 14 years in total
Length of ownership: 20 Years
Carl thanks: My Mum and Dad for the moral support and helping out with funds when times got tough during her original restoration, all my family and beautiful fiancé for putting up with all my car talk and the expenses this hobby throws at us. I'm so grateful to have these souls around me. A special thanks to Ray, Stretch, Mark, Briggs, Kim and everyone at Henry's Rodshop in Katikati. I had a few appalling shop experiences during this Hemi conversion from empty promises and poor work to downright arrogance from so called "reputable" shops. Thankfully Ray and the team at Henry's Rodshop took me in and together we got the car completed to the highest standard and in a timely manner using my vision. Down-to-earth professional service from real hot rodders! "